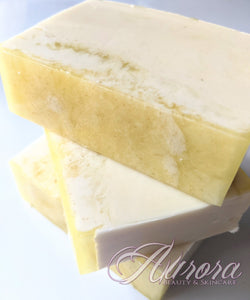 Lemon Bars are one of my favorites desserts! Tart lemon, combined with the sweetness of sugar and vanilla, create the most delicious blend. 
This glycerin based soap contains goats milk, shea butter and buttermilk, for a creamy texture. 
We finished this soap with just a touch of finely crushed oatmeal, for very mild exfoliation. 
Our soaps never contain harmful sulfates (SLS, SLES, SLSA) or parabens. 
The fragrance blend and colorant are not natural, making this soap 98.8% natural. 
Ingredients: coconut oil, palm oil, safflower oil, glycerin, purified water, sodium hydroxide (lye), goat's milk, buttermilk, shea butter, sorbitol, sorbitan oleate, soybean protein, crushed oats, titanium dioxide (a white colorant), essential oils and/or fragrance oils, mica or soap colorant.